Earlier this year we recognized Microsoft on our Ranking of Top Corporate Giving Programs. Thus it came as no surprise when the company announced that over the last 30 years, Microsoft employees donated over $1 billion, inclusive of the company match. Yes, that number is correct. Contributions from Microsoft employees, combined with the company's matching gift program, have resulted in more than $1 billion of charitable support for nonprofits around the world.
Microsoft's Matching Gift Program: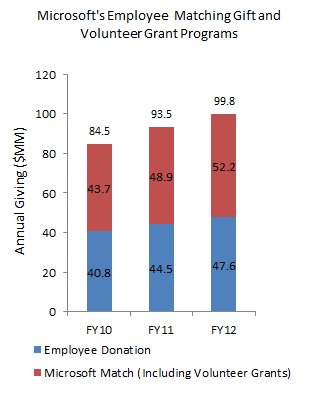 In 1983, eight years after Microsoft was founded, Bill Gates' parents suggested the company create an employee matching gift program. Within the first year, approximately 200 employees participated by requesting a company match on their own donations. Ever since then, employee giving programs have grown into an integral part of the company's charitable giving strategy.
Today Microsoft offers a dollar-for-dollar match to nearly any 501(c)(3) organization or school. The annual limit is $15,000 per employee every year. In the U.S., more than 35,000 employees (approximately 65%) of Microsoft's U.S. workforce participate in either / both the employee matching gift and volunteer grant programs in a given year.
As you can see from the chart on the right, the impact of Microsoft's employee giving programs continues to grow.
Click here for further details on Microsoft's employee giving programs.
Microsoft's Volunteer Grant Program
In 2005, Microsoft elected to expand the company's employee giving program by instituting a Dollars for Doers Program. Employees who volunteer within their communities are eligible to request a grant from Microsoft for the organization where they volunteer. Currently Microsoft provides grants of $25 per hour, which can add up to hundreds or even thousands of dollars for organizations.
Since the program was created, U.S. employees have volunteered for over 2 million hours. In Microsoft's 2012 fiscal year, more than 4,900 employees participated in the volunteer grant program by volunteering for 430,000 hours with local organizations.
Want to learn more about Microsoft's overall corporate citizenship strategy? Take a look at its Corporate Citizenship report.
In the report the company outlines the other ways the company has donated an additional $5.5 billion in cash, services and software to nonprofits around the world.
Similar programs
If you work at a nonprofit looking to increase fundraising from corporate giving programs, employee matching gifts and volunteer grants are a great place to start. With over 65% of Fortune 500 companies matching employee donations and 40% offering volunteer grant programs, there's money available for organizations willing to put in the time and effort.
Here are a few lists of national companies with these programs to get you started:
Want to learn more about matching gift and volunteer grant programs? Check out our matching gift service or sign up for our newsletter.
https://doublethedonation.com/wp-content/uploads/2013/10/corporate-philanthropy.png
321
845
Adam Weinger
https://doublethedonation.com/wp-content/uploads/2016/09/double-the-donation-logo-header.png
Adam Weinger
2012-10-19 23:32:43
2015-06-25 16:44:02
Breaking Through the Billion Dollar Milestone - Microsoft's Employee Giving Programs