Companies that Donate to Nonprofit Organizations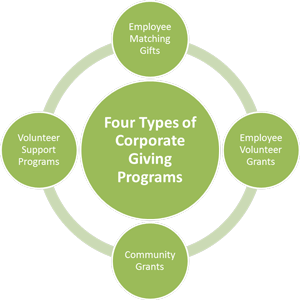 Have you ever wondered which companies donate to nonprofit organizations? Well, at Double the Donation we're asked that exact question all the time!
Most companies, big or small, have a budget for charitable giving to nonprofit organizations, though it can be done in any number of ways. These include:
Employee matching gifts
Individual volunteer grants
Community grants
Volunteer support / team volunteer grants
Of course all companies claim they donate to nonprofit organizations, but which do the best job of supporting nonprofit organizations?
Companies that Donate to Nonprofit Organizations through Various Giving Programs
One of the most common methods for companies to donate to nonprofit organizations is through employee matching gift programs. These are charitable donation programs where companies match donations made by employees to nonprofits. Double the Donation's service is based around helping nonprofits raise money from the multitude of companies that provide these programs.
Here's a sampling of a few companies which Double the Donation tracks:
Bank of America
Bank of America is just one of many financial services companies that match employee donations nonprofits. Every Bank of America employee is eligible to request up to $5,000 per year in matching gift funds to nearly any organization.
One of the nice features of Bank of America's matching gift program is that the company will match donations made to nonprofit organizations up until March 15th of the following year. That means you have plenty of time to make a last minute end of year appeal or start of year appeal to remind their donor base to submit match requests.
View more details on Bank of America's matching gift program.
Become a Matching Gift Expert in Just Five Days
Google
As you'd expect from a company who's slogan is "Don't be Evil", Google is very generous with its nonprofit donation programs.
Its matching gift program is no exception with Google matching up to $12,000 in donations per employee each year.
One of the highlights of Google's match program is that the company not only matches personal donations to nonprofit organizations, but also matches funds employees personally raise for a charitable event which they actively participate in (ex. walks, marathons, bike rides, etc.)
View more details on Google's matching gift program.
GE
Did you know GE was the first company to institute a matching gift program for employees? Ever since 1954, GE has been known as one of the top companies that donates to nonprofits.
While GE initially only matched employee donations to colleges and universities, the company has expanded its match program to include nearly all nonprofits.
View more details on GE's matching gift program.
Community Grants
Most large companies provide grants to nonprofit organizations through community grant programs. It's a way for companies to support their local communities by giving back to nonprofits which work to improve the lives of employees, customers, and entire communities.
Unlike matching gift programs where employees initiate the grant requests, nonprofits must individually research and apply for community grants. This often involves applying electronically through a company grant making portal where the nonprofit outlines how the funds will benefit the community.
Note: If you ever see a link to Cybergrants or the JK-Group on a company's website, you're being directed to the company's electronic grant making software where you can apply for a community grant.
One of the other most common ways companies donate to nonprofits is through volunteer grant programs. These are corporate giving programs where companies give grants to nonprofits where employees volunteer regularly. They can be a great source of incremental fundraising for nonprofits such as Big Brother / Big Sister organizations, Girl Scout or Boy Scout Councils, or any other group with a large number of volunteers.
Here are a couple of companies that donate to nonprofits through employee volunteer grant programs:
Microsoft
Microsoft is well known within the corporate giving world for having some of the most generous employee grant programs. In fact, over the years Microsoft has donated more than $1 billion through its employee donation programs.
Microsoft's grant of $17 per hour exceeds the average volunteer grant of $8-$15 per hour. All employees are eligible for both the volunteer grant as well as the matching gift program.
View more details on Microsoft's volunteer grant and matching gift programs.
Chevron
Like most major oil and gas companies, Chevron provides millions of dollars through its employee giving programs.
Through Chevron's Grants for Good Volunteer Grant Program, the company provides funding to nonprofits where employees and retirees volunteer on a regular basis. There are two tiers for individuals who volunteer regularly:
20 volunteer hours = $500 grants
40 volunteer hours = $1,000 grants
And don't forget about Chevron's matching gift program!
View more details on Chevron's volunteer grant and matching gift programs.
Starbucks
Not only is Starbucks well known for its conservation and environmental efforts, but it also offers multiple ways for employees to designate donations to nonprofits of their choosing. One such way is through its Partner Match Program for US and Canadian employees. Like Chevron, Starbucks has multiple tiers of volunteer grants:

25-49 volunteer hours = $250
50-74 volunteer hours = $500
75-100 volunteer hours = $750
100+ volunteer hours = $1,000
View more details on Starbucks' volunteer grant and matching gift programs.
Best Buy
Best Buy's employees are some of the most active volunteers in the country. In the 2013 fiscal year, 10,000 employees volunteered for over 100,000 hours which resulted in about $2.5 million dollars being donated to nonprofits through the company's volunteer grant programs.
Groups of Best Buy employees who volunteer together can earn grants for the respective nonprofit.
When groups of two or more Best Buy Mobile employees collectively provide volunteer services to a nonprofit organizations, they can earn up to $500 annually for a nonprofit.
When groups of five or more employees at all other Best Buy locations volunteer together, they can earn $1,000 awards for the nonprofit.
View more details on Best Buy's volunteer grant and matching gift programs.
Verizon
As one of the largest employers in the country, it isn't surprising that the company is one of the largest corporate contributors to nonprofits. Since 2000, Verizon has provided grants to over 54,000 nonprofits. Additionally, Verizon employees have volunteered over 6.8 million hours.
One of the unique aspects of Verizon's corporate giving program is its team fundraising match for employees who collectively participate in an organized fundraising event. The Team Fundraising Program is open to teams of ten or more Verizon employees who participate in cause-related walk, run, or bike events. Verizon will match up to $1,000 in funds raised per team member and up to $10,000 per team event.
And all of this is on top of Verizon's regular volunteer grant and matching gift programs!
Learn more about Verizon's employee giving programs.
Additional Resources for Nonprofits Looking for Companies that Donate to Nonprofit Organizations:
Become a Matching Gift Expert in Just Five Days