As with any type of outreach, the wording in your matching gift appeals is vital and should be considered when revamping your organization's matching gift strategy.
Matching gifts are a great source of additional revenue for nonprofits. In fact, an estimated $2 to $3 billion is donated through matching gift programs every year. Choosing not to take advantage of corporate philanthropy could cause your organization is to miss out on a lot of revenue!
Choosing the right message when promoting matching gifts can be the determining factor in whether or not a donor looks up their employer's match program. Considering this, you should take time to carefully craft your outreach.
To make sure you send the right message, familiarize yourself with recommendations for:
By learning the specific language of effective appeals, your nonprofit will be one step closer to maximizing its revenue potential.
Ready to revamp your matching gift outreach? Let's dive in!


1. Matching Gift Resources
The first step to boosting your revenue through matching gift appeals is by producing effective copy. In other words, you need to create multiple well-written resources for donors (and potential donors) to learn about matching gifts.
If you want to create high-traffic matching gift outreach, go to where the most supporters are: online! Your website is likely the first impression most people have of your organization, so make it count! From there, you can coordinate your outreach to include other online outlets.
Let's go through a few best practices for developing effective matching gift appeals using your online presence.
A Dedicated Matching Gift Page
An easy way to increase the visibility of your matching gift promotion is to create a dedicated page for matching gifts. This should be located either on your website or by using a custom match page on Double the Donation's servers.
Across your marketing efforts, you can include links to this page to help inform donors of their employers' match programs. On the page, you may want to include the basics of matching gifts and instructions for typical match programs.
Also, if you subscribe to a matching gift service (like Double the Donation), don't forget to embed the search tool. That way, users won't have to go out of their way to research their companies' programs.
Check out this great example of a matching gift page from Goodwill: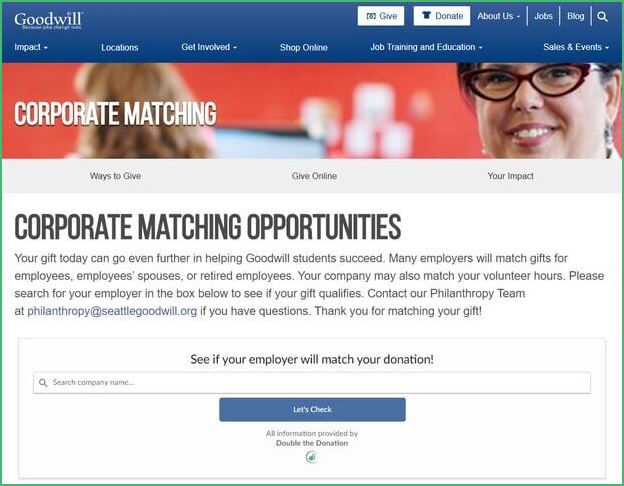 In addition to linking to your matching gift page on other resources, include a link in your navigation bar. When adding a link in your navigation bar, the exact wording your organization uses is vital. It can mean the difference between a supporter clicking the link or moving on without any further thought.
We recommend using "Matching Gifts," "Double your Donation," or "Matching Gift Company Search." On the other hand, we don't recommend nonprofits use wording such as "Corporate Matching" or "Corporate Giving" since these don't resonate with individual donors.
Emails
As an established nonprofit, you should already be using email to maintain contact with donors. Your team may know the general best email practices, but do you know the best email practices for marketing matching gifts?
The text you use in your outreach should be persuasive but to the point. Make sure to emphasize certain points with bolding and convey the importance of matching gifts for your organization.
For instance, check out this newsletter about matching gifts from the National Kidney Foundation: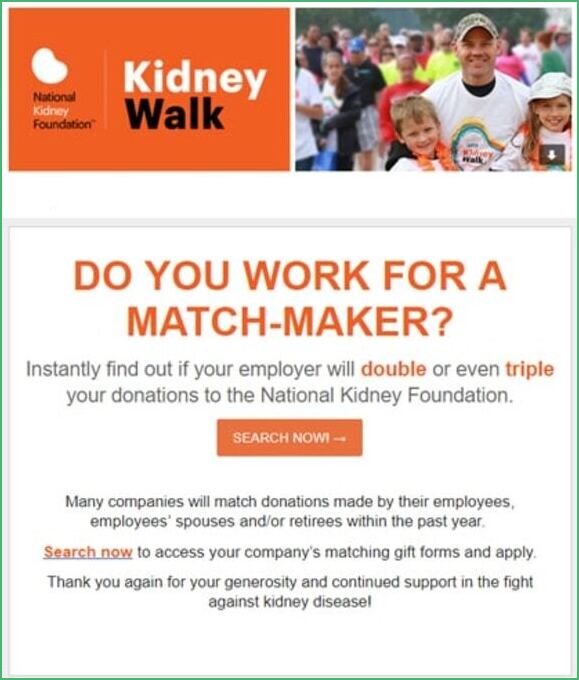 Takeaway: The text you use in your matching gift appeals is a vital component of fundraising. It should be straightforward and to the point but should also be persuasive.
For more ways and examples of promoting matching gifts, visit this guide to marketing matching gifts.

2. Matching Gift Blurbs
Don't worry if you've never heard of a blurb before. While you may have never heard this terminology, you've probably come across a blurb at some point. It's a short piece of writing, usually accompanying a piece of creative work. A few examples might be:
An advertisement about matching gifts that appears alongside your online resources.
A paper insert in your physical communications.
Team members' email signatures.
Your matching gift blurb doesn't have to be complicated. In fact, brevity is important. You want to get the message across before the reader loses interest. Let's go into how well-written blurbs are an effective way to promote matching gifts.
Inserts
If you send emails or letters to your donors that promote matching gifts or volunteer grants, consider including a matching gift blurb that accompanies these works. These are known as inserts. Otherwise, your organization will miss an important opportunity.
Take a look at this insert from the National Kidney Foundation: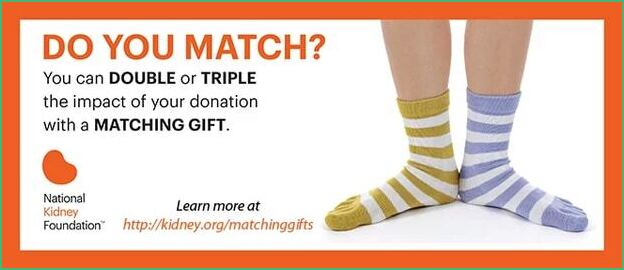 Inserts don't necessarily have to be entirely relevant to the communication itself. For instance, if your nonprofit is sending out its monthly newsletter or if you're sending a 1 in 3 donors indicates they'd give a larger gift if a match is applied to their donation.
When formatting your donation page, consider this example of a donation form blurb from the Leukemia & Lymphoma Society: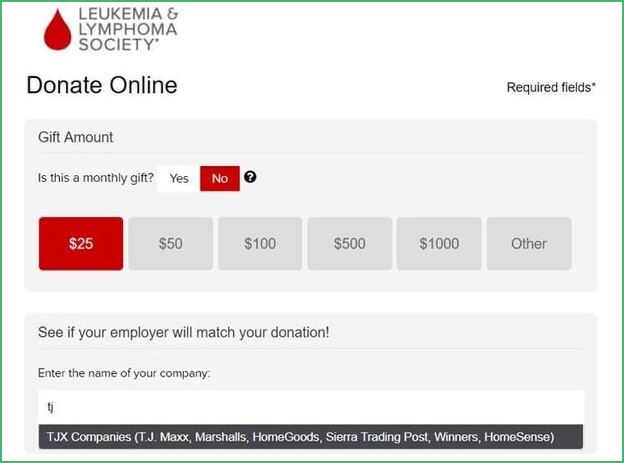 If you're subscribed to Double the Donation's services, your donation page is the perfect place to include the search tool! This matching gift database tool will point your donors to valuable information about their employers' matching gift programs. Jump ahead to find out more about this tool and how it can help promote matching gifts.
Takeaway: Blurbs, such as paper inserts or donation forms, are an effective, quick way to let donors know about matching gifts. Whenever you see the opportunity to promote corporate giving, do it, and make sure you get straight to the point.
If you need a bit more insight into effective outreach strategies, check out these examples from nonprofits who do a great job of marketing matching gifts

3. Matching Gift Verbiage
When making an appeal to donors (or even potential donors), the wording of your appeal is important. However, it goes a bit deeper than this. Breaking it down further, your choice of verbs can affect the success of a campaign.
People often need a call-to-action in order to get involved. The key is to ask your donors to do something, to somehow take action. Matching gift appeals need action verbs. Otherwise, donors won't be entirely sure what their next steps should be.
In an email or on a webpage, phrases like "Click Here" or "Read More" tell your audience what they need to do in order to help the cause. Plus, they create a sense of urgency. In online appeals, a button that links directly to content can be very useful.
ASPCA does a great job of calling its supporters to action on its website. Check out the organization's dedicated matching gift page: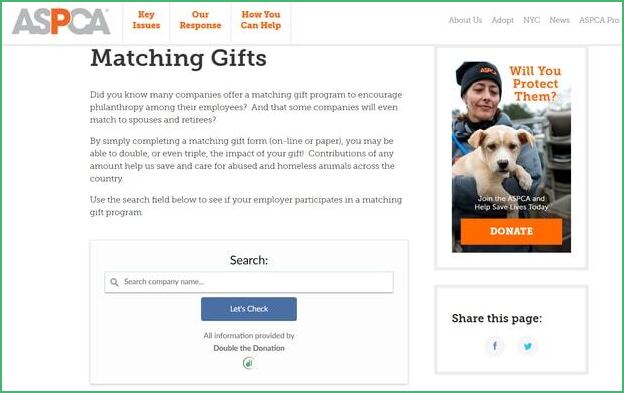 On paper, use the same type of language, but be even more specific about next steps. For example, here's a postcard from the Florida Institute of Technology: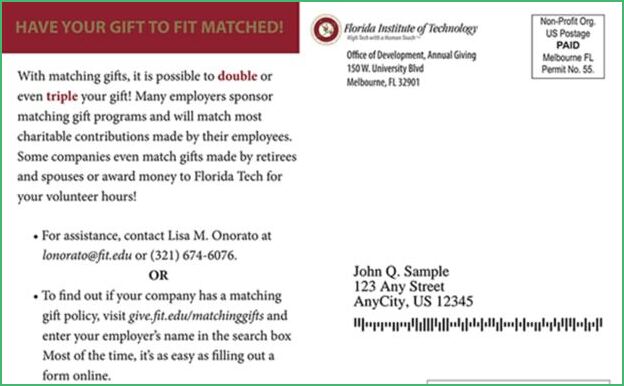 Takeaway: Supporters want to help. Too often, they are held back by a lack of information and no clear directions for how they can be of service. Using the right, clear verbiage can help clarify the steps your donors need to take next.

4. Finding Matching Gift Opportunities
When revamping your matching gift strategy, a database (like Double the Donation) can help you pinpoint these opportunities. That way, you can direct your matching gift outreach to those whose employers offer a giving program.
Double the Donation's service is designed to help nonprofits raise more money from employee matching gift programs. Our tools can help your organization raise donor awareness and make it easier for your donors to submit matching gifts. Once you embed it across your online fundraising channels, here's what the tool does:
Enables donors to search for more than 20,000 companies.
Provides updated forms and guidelines for each company.
Allows your nonprofit to identify match opportunities.
This search tool is just one of the many features of 360MatchPro by Double the Donation. This fully-automated tool pinpoints match-eligible donors through email domain screening, enables live tracking of where donors are in the match process, automatically contacts eligible donors, and more! That way, you won't have to create quite as many matching gift appeals yourself!
360MatchPro is great for pinpointing the best possible moment to make matching gift appeals to specific donors. Think your organization could benefit? Request a demo!
---
Matching gifts are often overlooked by nonprofits and supporters alike. Learning about the best resource, blurb, and verbiage practices is just the first step in boosting your matching gift revenue.
Now, apply these best practices to your corporate giving appeals and reach your matching gift potential!
Additional Resources
If you're interested in learning more about matching gifts, check out the following additional resources:

https://doublethedonation.com/wp-content/uploads/2022/05/Matching-Gift-Appeal-Practices_Feature.jpg
280
725
Adam Weinger
https://doublethedonation.com/wp-content/uploads/2022/03/logo-dtd.svg
Adam Weinger
2013-07-11 16:00:32
2022-06-20 07:54:10
Matching Gift Wording, Text, & Verbiage: Best Practices