Earth may have always been spherical, but it took the Greek philosopher Pythagoras until the 6th century BC to dispel the myth of a flat world. Likewise, matching gift programs exist, but a lack of donor awareness could be holding your fundraising back.
The most common reason why people don't submit matching gift requests is that they don't know if their employer offers such a program. Corporate giving is a big deal, and promoting these revenue opportunities to donors can substantially increase your donations.
In fact, mentioning matching gifts in fundraising appeals results in a 71% increase in response rate and a 51% increase in the average donation amount. Not only do matching gift programs double donations, but they also encourage donors to increase their original gift, making the matched gift larger, too!
Nonprofits need every dollar they can grab, and matching gifts are an effective way to increase your fundraising without demanding much out of donors. Submitting matching gifts is an easy 5-minute process, and marketing matching gifts doesn't have to be difficult, either.
To boost matching gift revenue, focus on your outreach via:
Incorporating corporate giving into your outreach strategy can put you on the path to reaching your fundraising goals. Let's get started!

1. Website
As with any modern organization, your website is the first impression someone has of your nonprofit. Make it count.
A website is much more than just a homepage, and with donors often choosing the convenient route of donating online via credit cards, you have endless opportunities to promote matching gifts.
Your website is your home on the internet, and it's where you're required to host people every day. While many visitors are strangers, the goal is to impress everybody and to make sure that all parties leave feeling satisfied and looking forward to their next visit.
The best time to promote matching gifts is when your donors are actually making their donations. There's no time like the present, and if people are already in giving moods, then why not inform them about how they can give twice as much?
Depending on the size of your organization, there are a few common ways to promote matching gifts online.
Dedicated Matching Gift Page
As you learn more about corporate giving, share this knowledge with your supporters. That way, they'll know their impact can be multiplied without reaching back into their own pockets.
Donors require a landing page where they can learn about matching gift programs and discover if their employers participate in corporate giving. A dedicated matching gift page can communicate relevant facts, such as matching gift statistics or annual donation numbers, and also allow donors to search for information.
It could even be as simple as stating what matching gifts are. If you subscribe to a matching gift service like Double the Donation, include relevant tools on this page, too.
Dedicated Matching Gift Page from Goodwill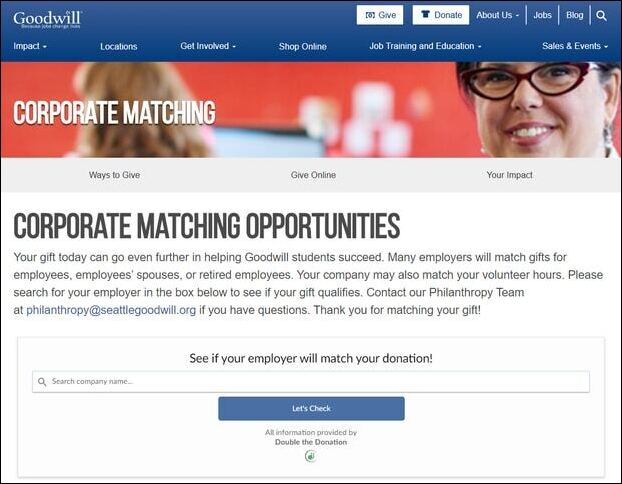 A functional website is necessary for every organization, because it's a great place to market revenue opportunities like matching gifts. All nonprofits should accept online donations, so incorporate matching gift marketing alongside regular donation calls-to-action on your website.
The goal is to give donors a place to both learn about matching gifts and to be spurred into action to submit the necessary forms. Learn more about creating a dedicated matching gift page before creating your own!
Ways to Give Page
A Ways to Give page is where people learn about all of their donation options to your nonprofit. From regular donations to fundraisers to matching gifts, there are a ton of ways to support your organization, and you want to advertise them all.
Additionally, people will be more likely to give if you accommodate their preferences by offering multiple donation options!
Ways to Give Page from Center for Puppetry Arts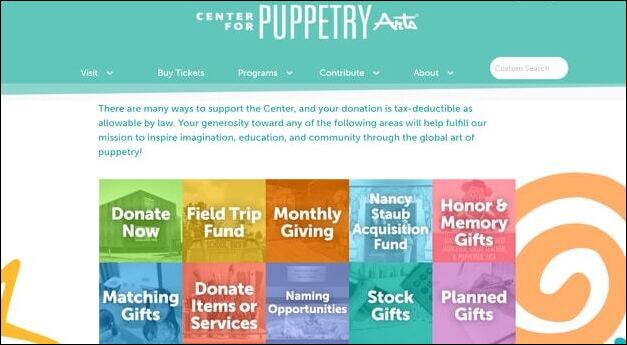 Don't forget to include matching gifts on your Ways to Give page. Instead of making donors research their employers on their own, give them the tools they need, because this can lead to a major increase in fundraising. Learn how to create a Ways to Give page or revamp your current page to better market matching gifts.
Navigation Bar
In addition to using dedicated matching gift pages, you can tell donors about these programs across your website. By including a section specifically about corporate giving, you allow users to access that information anywhere on your website.
Plus, if someone's browsing your website and has never heard of corporate philanthropy, simply seeing there's a page about it may spark curiosity.
Navigation Bar on the Homepage of Lafayette Partners in Education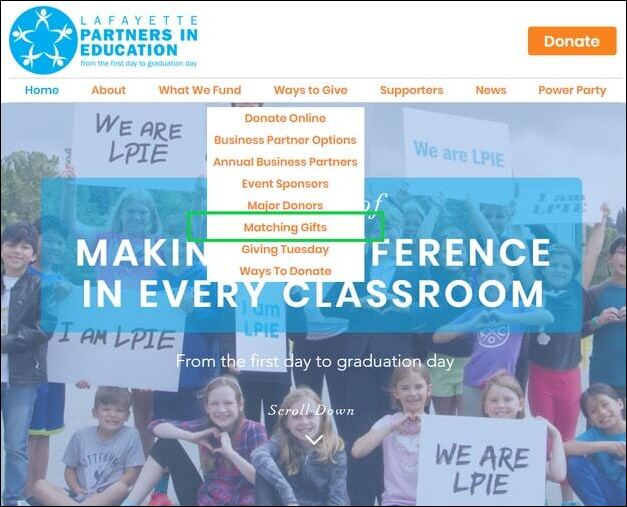 Banner ads function as proverbial advertisements on any webpage, and a link in your navigation bar allows donors to intuitively discover matching gifts. The links should lead to a dedicated matching gift page, where you can inform donors about all the nitty-gritty matching gift details.
Implementing matching gift promotion across your website is a major step in boosting your revenue. Don't overlook it!
Blogs
Organizations often use blogs to keep supporters updated on their efforts. Blogs tell your nonprofit's story, so why not also share ways for donors to double their donations so that you can keep telling that story?
They're a great way to start the conversation about corporate giving while also evoking emotion in readers. For instance, tell in-depth stories about the importance of matching gifts while educating people on how to submit the necessary forms.
Even just including a graphic that advertises matching gifts on the side of a blog post can help to increase awareness.
Posting insightful stories about matching gifts is a straightforward promotion strategy. In fact, some matching gift services (like Double the Donation) offer prewritten matching gift articles that you can use.
Takeaway: Your website is the one place where most donors come to learn about your mission and, ultimately, make a donation. Promoting matching gifts on your website is a great way to encourage donors to give more and make a matching gift request.

2. Email
Email outreach is a vital component of online giving. Email provides instantaneous outreach to donors, so you can essentially say, "Hi. What's up? Have you thought about matching gifts today?" Then, people can reply just as quickly. Snail mail cannot keep pace, and at $0.55 a stamp, why would you pay to slow down?
Acquiring matching gifts through email is a lot like a game of chess. There are multiple pieces that all do different things, and while one piece could win the game all on its own, it's more likely that a focused strategy and a team effort will produce optimal results.
Success hinges on a well-paced, steady procession of the right moves, not reckless bombardment of emails. There are a few ways you can effectively market matching gifts through email, and we'll walk you through them.
Newsletters
With enough space to write a little blurb or even a full article, newsletters are a great place to educate donors about matching gifts. In fact, you can even send a newsletter dedicated to matching gifts.
When newsletters have one goal, readers are less likely to get distracted by other information. That way, you ensure no one will miss the important announcement.  Otherwise, when designing your newsletter, make sure to prominently feature each announcement in its own section.
Email Newsletter from CASA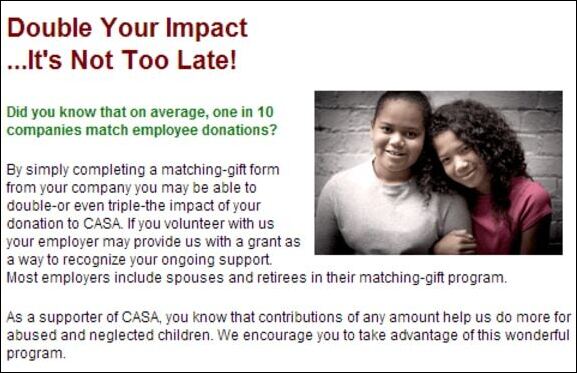 Remember, a newsletter dedicated to matching gifts is the best strategy, but splitting space with another topic or including a matching gifts graphic in a newsletter about another topic can work, too. Loyal donors read your newsletter, so it's a good place to provide in-depth information about the benefits of corporate giving.
Acknowledgement Emails
When your nonprofit receives a gift, you should always say thank you. Your donation ackowledgement email is also a great time to promote matching gifts. The donations are fresh on donors' minds, and a little nudge saying that they can double their donations without shelling out another cent can go a long way.
Plus, you can automate this type of email and ensure every donor receives this important announcement.
Acknowledgement Email from the Kitten Rescue Club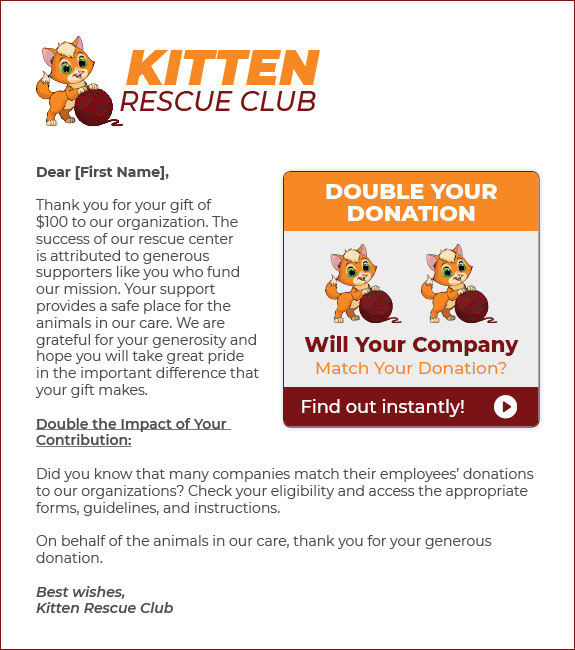 Well-designed acknowledgement emails thrive because you can provide links to dedicated matching gift pages using text or graphics. They catch the eye of readers and allow you to engage with them.
Email Signatures
Chances are that you send a ton of emails. Every message is an opportunity to promote matching gifts. An email signature typically includes contact information, but it's also a great place to promote matching gifts.
A simple blurb or a flashy graphic about corporate giving can increase awareness and be the needed push for donors to take a quick five minutes to submit matching gift requests. Before doing this, learn how to use your email signature to promote matching gifts.
Takeaway: Whether you market matching gifts in your email signatures, newsletters, or acknowledgement letters, emails allow you to showcase matching gifts in a prominent way.

3. Social Media
People flock to social media to discover the internet's best content. You don't need to produce viral posts every day, but if you want to promote matching gifts, you do need to provide compelling and engaging information on a consistent basis.
There are as many social media outlets as there are stars in the universe (give or take a few), so it's best to focus on the sites most relevant to promoting your matching gift program: Facebook and Twitter. Both platforms require a nuanced approach.
Why should you focus on matching gift marketing efforts on social media? How do you maximize your social media efforts? Can this all be done without shelling out a sizable sum for featured advertisements? Social media is a vital, contemporary marketing approach through which you will see results without breaking the bank. You just have to be aware of the most up-to-date best practices.
Facebook Post from the National Kidney Foundation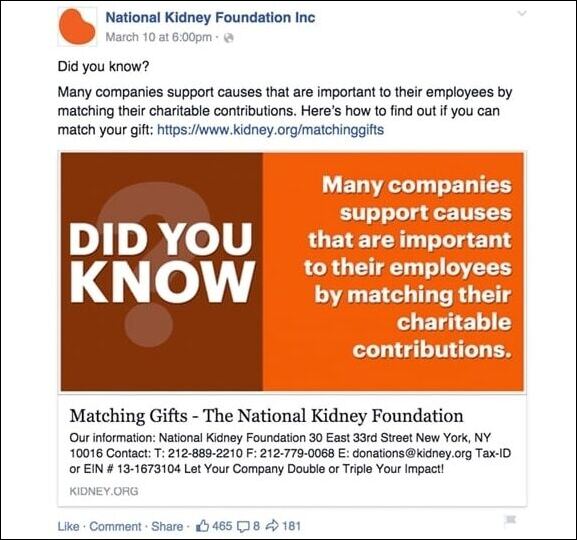 Whether or not you employ a matching gift service, a simple tweet or Facebook post can spread the word to donors. When revamping your social media strategy, learn the best practices for posting about matching gifts on social media.
Year-End and New-Year Appeals
Donations have lifespans, so you need to promote matching gifts to eligible donors before the clock runs. In other words, a supporter can't donate in 2016 and submit a matching gift request for that donation in 2019. Each company has its own deadline, so stay up-to-date on your donors' employers.
Year-end and new-year appeals remind donors of impending matching gift deadlines. This time of year, known as giving season, is when your nonprofit should be most active in promoting matching gifts. To reach the widest audience, social media is a great way to spread the word to your supporters.
End of Year Appeal from the Kids & Art Foundation on Twitter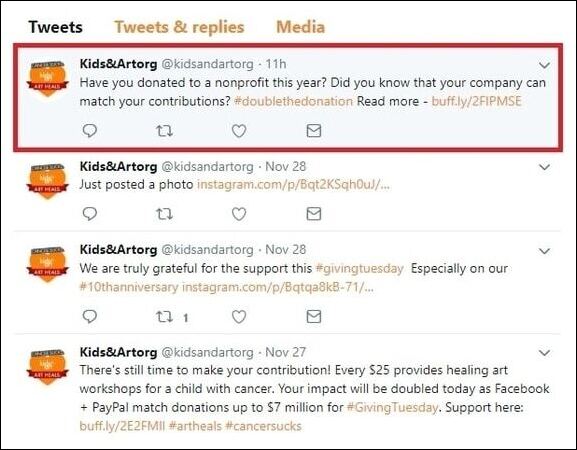 While these appeals can be made via social media, email appeals allow you to chronicle the exact deadlines and provide more depth about the importance of submitting matching gift requests before it's too late.
Takeaway: Social media is a great way to keep people up-to-date on your nonprofit's campaigns. However, this medium can also be used to promote matching gifts. Just be sure to link to a place where donors can learn more information.

4. Internal Promotion
Employees of any nonprofit should believe in their organization's mission wholeheartedly, and they should be encouraged to discuss their good work.
Why else would a person dedicate their life to any profession? Yes, some people work for money, but in the nonprofit sector, the ultimate goal is not to make a profit. Rather, the goal is to deliver a positive effect on the world. Here's how the process works: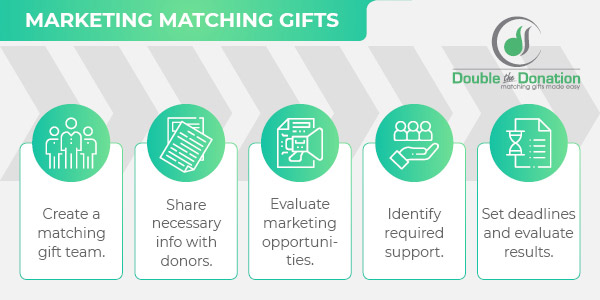 By following this straightforward process, you can ensure your team is doing the best job possible acquiring matching gift funds.
Remember, internal outreach encompasses all areas of your nonprofit, including staff, donors, volunteers, and so on.
Matching Gift Team
To fully implement matching gifts in your fundraising strategy, form a matching gift team. First, identify a leader. Then, pull people from marketing, volunteer coordinating, and all departments in order to streamline your matching gift processes and implement a culture of matching gifts.
With someone in charge of the process, you ensure that matching gifts are promoted to all donors. Plus, there will always be someone to answer donors' questions about how or why matching gifts matter.
With your matching gift team in place, it's time to execute your strategies. There are the typical marketing mediums, such as email, social media, and print advertising, but don't forget about word of mouth.
By knowing more about matching gifts, your staff and supporters will naturally spread the word about corporate giving. Informing your internal staff about matching gifts reminds them to tell both each other and supporters about matching gifts. While your website, emails, or social media accounts might grab someone's attention, nothing spurs a person to action quite like spoken assurance from a trusted face.
Strategies to internally promote matching gifts all start with a dedicated matching gift coordinator or team, but these people need to spread the word and share the responsibility with everyone who is involved with your nonprofit.
A dedicated matching gift staff addresses specific roles in the matching gift process and is intended to get all of your matching gift efforts streamlined. That way, your nonprofit will bring in more corporate-matched donations than ever before.
Internal promotion may be the most effective strategy for promoting matching gifts. When your entire team of supporters knows about matching gifts, these individuals can spread the word to your community. Before forming your team, learn more about matching gift team execution.
Takeaway: Hiring a matching gift expert (or team) will ensure that you have a point of contact for everything matching gift related. This can lead to better outreach and marketing strategies for matching gifts.

5. Direct Mail
While electronic communication is a quick outreach strategy, some donors prefer communication via direct mail.
Direct mail includes letters, postcards, paper inserts, newsletters, and return envelopes. All of these might sound like archaic forms of marketing, but when you're marketing matching gifts both online and offline, you're reaching a wider audience, which means more matching gifts.
Is paper marketing out of date? No, it's not. In fact, there are a number of donors who prefer the personal touch of tangible mail. Plus, you don't have to handwrite every letter or envelope. Take the following postcard for example:
Matching Gift Postcard from the University of Michigan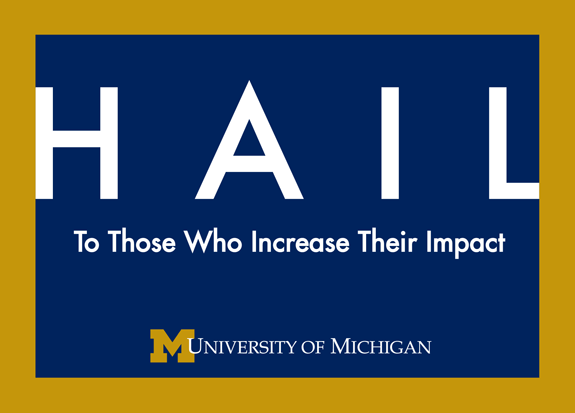 When people read paper mail, as opposed to email, they might be reading the same content, but interaction with physical ink and paper does something to help people better remember what they're reading. Common sense would advise that you don't just want people to read about matching gift programs, but that you want people to remember them.
The debate between paper communication and technological communication has raged on for years, and the dispute is analogous to deciding between print versus online marketing. Nonetheless, employing both types of marketing works best.
Takeaway: Your matching gift marketing strategy should include direct mail. Some donors will prefer learning about corporate philanthropy programs by reading something tangible.

6. Matching Gift Database
Employing a matching gift database opens the door to a multitude of revenue opportunities. With Double the Donation's matching gift platform, you can embed this industry-leading matching gift database directly on your website and donation forms.
With Double the Donation, donors can easily discover whether they're match-eligible. All it takes is incorporating the tool across your online fundraising channels. By adding Double the Donation to your tech toolkit, you'll boost your revenue opportunities. Specifically, the tool:
Enables donors to search over 20,000 companies.
Provides all available information and forms on companies' programs.
Allows your nonprofit to recognize match opportunities instantly.
For larger nonprofits with an already-existing matching gifts solicitation strategy, an automated tool may be the way to go.
For example, 360MatchPro will automatically discover whether a donor is match-eligible. Then, the software will send marketing communications to match-eligible donors informing them of available matching gift or volunteer grant opportunities. For nonprofits looking to grow their matching gifts solicitation, this is a great solution.
Think the software might be a good fit for your organization?
---
Marketing matching gifts means using a variety of strategies in order to increase fundraising. Simply employing one outreach tactic is not enough. Plus, using more outreach channels means higher revenue opportunities.
Get started implementing these strategies in your fundraising strategy. Then you can hold a hulking sphere of cash and use it to do some good for the world!

https://doublethedonation.com/wp-content/uploads/2022/05/Marketing-Matching-Gifts_Feature.jpg
280
725
Adam Weinger
https://doublethedonation.com/wp-content/uploads/2022/03/logo-dtd.svg
Adam Weinger
2015-03-21 17:37:26
2022-06-20 07:54:18
Marketing Matching Gifts: The Complete Guide