People are usually told that if it's too good to be true, it probably is. For that reason, when people are told their employers will match their donations to a nonprofit of their choice, it's hard to believe.
These programs may seem like a dream, but they're very real! More and more companies are offering corporate matching gift programs in order to prioritize corporate social responsibility (also known as CSR). Through these programs, businesses match an employee's donation to select nonprofits and double, or sometimes even triple, the impact. 
Matching gifts aren't the only CSR programs out there. As part of other programs, companies provide monetary grants to eligible nonprofits where their employees regularly volunteer their time.
As a nonprofit professional, it's your job to get the word out about these programs to your donors. On the other hand, as a company, it's important to understand the impact implementing a CSR program can have on your image, your employees, and your contributions to society. 
In this article, we'll address all of these topics!
For Companies
There are many reasons for companies to start a matching gift program, and there are countless resources you can use to implement yours today. Check out the topics below and jump to the ones that interest you most:
For Nonprofits
If you work for a nonprofit organization and you're looking for a way to increase your matching gift revenue, consider investing in matching gift software! Specifically, we'll cover more about 360MatchPro by Double the Donation below.

Reason #1: It Creates a Positive Company Brand
What is the biggest misconception people have about branding? Brands are logos, and logos are brands. However, the way people perceive your company and its products goes much deeper than a logo. It's influenced by previous interactions, advertising, and what people have read and know about the company.
For instance, companies like Toms Shoes are well known for the One for One program they pioneered, which previously donated a pair of shoes to an impoverished child for every pair purchased. When consumers made the decision to buy a pair of Toms Shoes, they weren't just deciding based on the Toms logo.
Instead, their decision was heavily influenced by the ways the company branded itself as a leader in philanthropy. In other words, people felt good doing business with Toms, which made them want to continue supporting the business.
However, not every company needs to donate tangible items to make a difference. We often mention companies like Google for their robust spirit of philanthropy. Consumers trust Google because it has a reputation for doing good, including its generous matching gift and volunteer grant programs. In the business world, trust means everything.
Companies everywhere are giving millions of dollars to charity for one simple reason: it's good for developing a trustworthy brand. Therefore, it's good for business.

Reason #2: It Encourages Employees to Give
Giving back to the community is the heart of corporate giving. Giving programs develop a trustworthy brand, but socially aware businesses know they have the power to do more than that.
Oftentimes, businesses want to support the community that supports them. That way, their local consumer base will take pride in advocating for them.
By creating well-designed programs, companies convey their desire to give back to the community. And when their employees know they can make a substantial difference in their communities, they'll be much more motivated to do so. Generous employees also look good for overall company branding. Microsoft, for instance, can boast that its employees raised over $1 billion dollars for charity since the inception of its giving program.
Charitable employees are drawn to businesses that offer these programs, creating a well-rounded and generous work environment. Even if employees don't already donate time and money to nonprofits, they'll become much more aware of these opportunities. 
In addition, a giving program that increases employees' potential impact may also be the push an individual needs to donate or volunteer. Doubling, and even sometimes tripling, their employees' contributions makes it much more appealing to donate and volunteer with local nonprofits. In fact, 84% of donors say they're more likely to donate if a match is offered.

Reason #3: It Reduces Employee Turnover
When your company is contributing to the greater social good through CSR, this can greatly reduce your employee turnover rate. Why? Employees are more socially aware this day in age and want to contribute to causes they're passionate about—especially on a global scale.
If your company offers employees the ability to make an even bigger difference through matching gifts and other forms of corporate philanthropy, they will be more likely to engage with your company and remain loyal.
This means your employee turnover rate will decrease, helping you retain awesome employees who continue to bring value to your company.

Reason #4: It Democratizes the Giving Process
You may be wondering why companies don't just donate their entire giving budget to a few select charities.
For one, matching employee donations can forgo difficult screening processes for charities. Companies don't want to donate money to charities that are inefficient, corrupt, or have had major scandals. Matching employee donations puts the research responsibilities on the employee, not the company.
It also avoids debates about which nonprofits should receive funds by democratizing the process. In other words, the employees have a say in how their company spends its giving budget.
In short, matching gifts is just a simpler way of enacting corporate donations. When an employee shows their employer which causes they care about, companies know how to allocate their giving budget.

Reason #5: It Increases Employee Engagement
Employees who are engaged with their company feel a stronger connection to their employer's values, mission, and vision. This means companies that encourage employee giving and volunteerism are more likely to keep their employees engaged and give back to the community at the same time.
For example, matching gift programs show employees that the company not only encourages charitable giving but is committed to making the donations go further, as well. In addition, companies that offer paid time off for employees to volunteer or participate in fundraising events also boost engagement. Employees get to experience an enjoyable and rewarding team-building event, and the company enhances its reputation in the public eye.

Reason #6: It Attracts Talent
Companies that offer CSR programs, especially matching gifts and volunteer grants, are more likely to attract top talent. This is because a large portion of the workforce, namely Millennials, want their companies to offer them a sense of purpose and pride. More and more job seekers are looking into a company's CSR efforts prior to accepting a position.
Offering CSR programs—especially those with a global reach—gives companies the ability to attract this group of talented employees and keep them as part of their company for the long term.

Bonus: Resources for Creating Matching Gift Programs
If your company is looking to implement a new matching gift or volunteer grant program, check out these resources below to jumpstart your planning!
For Companies Creating New Matching Gift Programs
Looking to create a brand new matching gift program? Start educating your team with the below resources:
Matching Gift Basics

: While this article is geared toward nonprofits, it includes a good overview of different aspects of matching gift programs.

Top Matching Gift Companies

: In this article, we highlight some top companies with outstanding employee giving programs. Each company has a unique component to their match programs that causes them to stand out among their peers.

8 Corporate Matching Gift Program Questions (and Answers!)

: Our team speaks with nonprofits and corporations about matching gift programs on a daily basis. Here are a few of the most common questions we receive.
For Companies Creating New Volunteer Grant Programs
Want to encourage volunteerism within your company? Here are some great resources to start learning about volunteer grants:
Volunteer Grant Basics

: While this article is geared toward nonprofits, it includes a good overview of different aspects of volunteer grant programs.

Top Volunteer Grant Companies

: We highlight some of the top companies that provide volunteer grants with generous amounts per hour. Find out what makes them stand out and implement those ideas in your own programs!
Implementing Employee Giving Programs
Looking for some examples of how you can implement, promote, and organize your employee giving programs? Check out these resources:
Matching Gift Software Vendors: The Comprehensive List

: Looking to implement a new employee giving program? Be sure to check out these leading vendors that have worked with countless companies to design their employee giving systems.

Marketing Matching Gifts

: While this content is geared toward nonprofits, it highlights several channels through which you can promote your company's matching gift program, such as on your website or through your company's social media pages.
Company Spotlights
Want to research some of the best examples of employee giving programs? We've spotlighted these top companies and their matching gifts policies:
Walt Disney Corporation

: Disney matches donations to most nonprofits at a 1:1 ratio with a maximum of $25,000.

Microsoft

: Microsoft matches up to $15,000 at a 1:1 ratio to most nonprofits.

Merck & Co.

: Merck & Co. matches up to $30,000 per employee per year at a 1:1 ratio to most nonprofits.

How Matching Gift Databases Help Nonprofits
Both companies and nonprofits should understand the basics of matching gift programs. For companies, corporate matching programs help make an impact in the community, create a positive public image, and keep employees engaged.
For nonprofits, matching gifts are just as important—if not more. Nonprofits benefit from matching gifts because they receive an additional donation for the work of soliciting one. But just as companies should understand the benefits of matching gifts, nonprofits should, too. This is because many organizations underutilize this fundraising opportunity.
Many nonprofits don't have the time, resources, or staff needed to secure matching gifts. Even more than that, pinpointing corporate giving opportunities can quickly become overwhelming as an organization's supporter base grows. Researching the employers of each donor (and volunteer) can be an ongoing, arduous process. 
That's where a comprehensive matching gift database like Double the Donation comes in handy!
Double the Donation offers the world's leading matching gift database. It holds data on more than 20,000 companies representing 15+ million match-eligible individuals.

360MatchPro by Double the Donation
Large nonprofits and universities will benefit even more from 360MatchPro by Double the Donation. Pulling from Double the Donation's comprehensive database, the system automatically detects match-eligible donors and reminds them to complete the match process through automated emails.
Here's how it works:
An individual donates to your nonprofit.

360MatchPro scans the information provided on the donation form (e.g., email domain, employer details, etc.) to determine the individual's eligibility for a donation match.

Based on the individual's eligibility, the platform triggers customizable emails to them, outlining relevant next steps they can take to submit a match request.
360MatchPro comes with several benefits. Because the platform automatically identifies matching gift eligibility, your organization will drive more matches through to completion as a result of more successfully submitted match requests. This leaves your team more time to focus on top matching gift opportunities and serving your mission.
Best of all, 360MatchPro by Double the Donation easily integrates with top fundraising platforms, so you won't have to worry about transferring your existing data! This means any size organization using software that integrates with the platform can benefit from 360MatchPro.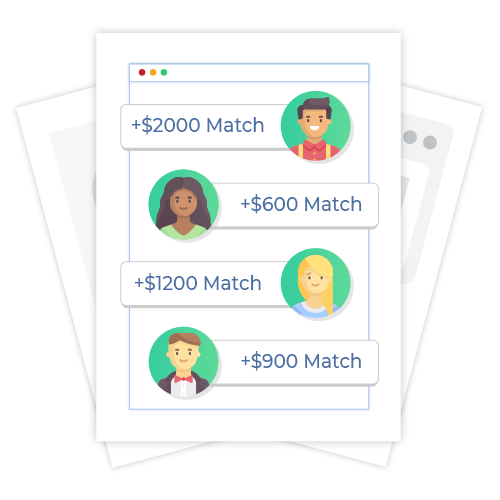 Making the most of matching gifts and volunteer grants is vital for your fundraising strategy. Make sure you can instantly recognize your opportunities so you can maximize your nonprofit's much-deserved revenue!
---
It's important to understand the matching gift process and its impact, whether you work for a nonprofit or a corporation. As a company, you can boost your corporate image while supporting your communities and the greater good. As a nonprofit, you can bring in the extra funding you need to serve your mission with little to no added effort.
Looking for even more information about matching gifts? Check out the additional resources below:

https://doublethedonation.com/wp-content/uploads/2022/05/Matching-Gift-Programs_Feature.jpg
280
720
Adam Weinger
https://doublethedonation.com/wp-content/uploads/2022/03/logo-dtd.svg
Adam Weinger
2013-02-28 02:20:33
2022-06-20 07:53:57
Why Companies Have Matching Gift Programs: A Complete Guide