Thanking donors should be at the top of your priority list for your fundraising strategy. You should put a special emphasis on thanking donors who complete matching gift requests, because those that do took the extra time to fill out the necessary paperwork.
If you don't show your appreciation for those who generously support your organization, they won't be as loyal. In fact, they'll be much more likely to start supporting other nonprofits that do thank them.
Ask yourself this: Is your organization taking the time to thank individuals who submit matching gift requests? Matching gifts are often an overlooked area in fundraising in general, and in donor recognition especially.
There are several strategies used to thank donors for their donations. They're all designed around showing your donors that you appreciate their matching gifts. When coming up with an acknowledgement strategy, consider the following:
Nonprofits thank their supporters with the knowledge that a little recognition goes a long way when it comes to retaining donors. The same applies for matching gifts. If you acknowledge this valuable contribution, you increase the likelihood of that donor submitting a matching gift again in the future.
Ready to learn about some of these recognition strategies? Let's get started!


1. Acknowledgement Letters and Postcards
Many nonprofits use tangible thank-you letters and postcards to recognize their donors when they make a donation. If the donor submitted the matching gift form at the same time as their donation, simply modify the letter you were originally going to send, and add a section thanking them for their matching gift.
If the matching gift form is submitted by the donor after you've sent a thank-you note, you'll want to send a separate acknowledgement letter about how you appreciate the time they took to complete the match request. Not only do donors want to know that their form is being processed, but you'll also stay fresh on their minds without asking for another donation.
Similar to acknowledgement letters, postcards are a cost-effective way to say thanks to donors for submitting a matching gift. Here's a sample matching gift postcard sent out after the organization received the matching gift check. Oftentimes, these are sent once the check is actually received, many months after match forms are initially submitted.
Sample Matching Gift Postcard sent by the University of Michigan (Front Side)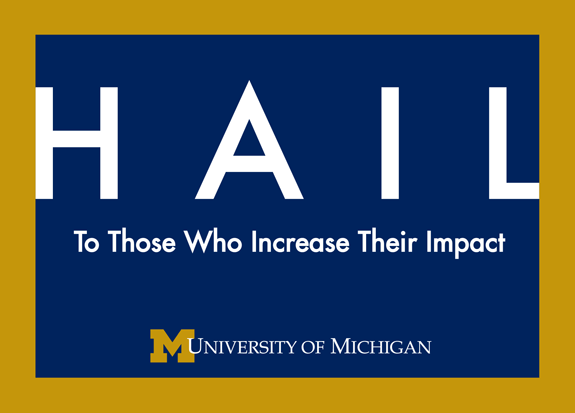 Sample Matching Gift Postcard sent by the University of Michigan (Back Side)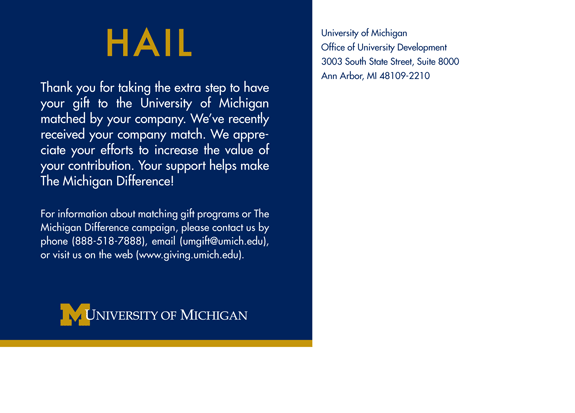 If your nonprofit team doesn't have experience with writing letters, no worries! There are plenty of free matching gift letter templates floating around the internet to help you get started.

2. Email Recognition
If changing your pre-formatted donor letters turns out to be a hassle or you don't have the funds to send a separate matching gift acknowledgement card, why not automate the whole process with a dedicated email for matching gift donors? With the right automation system, you can use customizable templates and brand these emails to your organization. Plus, your team will save time!
The email doesn't have to be long or complicated. All it takes is a few sentences thanking them for submitting a matching gift. Check out this example from North Carolina State University: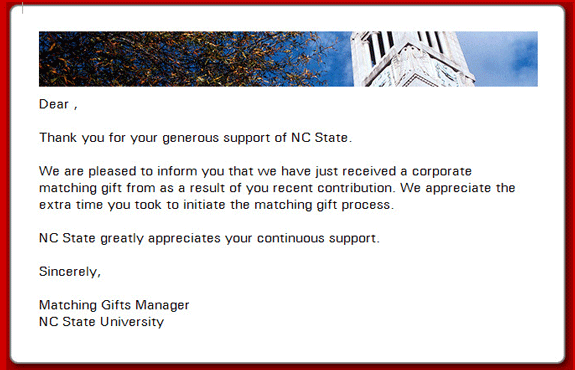 Be sure to highlight how important matching gifts are for your organization. That way, donors will feel appreciated and will know their impact (and continued support) is vital to the success of your organization.
Otherwise, you'll face the possibility of losing valuable supporters, or at the very least, you won't receive matching gifts from them in the future.


3. Newsletter Recognition Lists
If your organization sends out a regular newsletter, consider adding a section where you list the overall financial impact of matching gifts that you've recently received. Specify which projects have benefited because of matches and how they've benefited. That way, donors who have completed the match process will know exactly where their contributions are going.
It could even be as simple as stating the number of companies that matched gifts and saying how much extra money you raised through matches. Here's an example of a graphic you can include in your newsletter:

If you want to take it a step further, outright name the companies which provided matching gifts as well as the specific donors who took the time to complete the process. While publicly acknowledging your donors, you'll simultaneously increase awareness of matching gifts among your other donors.
Not only is this a great retention strategy, but it can start the matching gift conversation with other supporters, too!


4. Social Media Recognition
As society's tech usage and reliance increases, so should your nonprofit's web presence. You should start with your organization's website (See examples here!) and branch out to social media.
Utilize your social media accounts to promote matching gifts by recognizing individuals by name who submit matching gift requests. Not only does this immediately acknowledge your matching gift donors, but it also alerts all your other followers about corporate giving programs.
Here's an example from the Kittens Rescue Club, where they thank their matching gift donors and start the conversation with other supporters: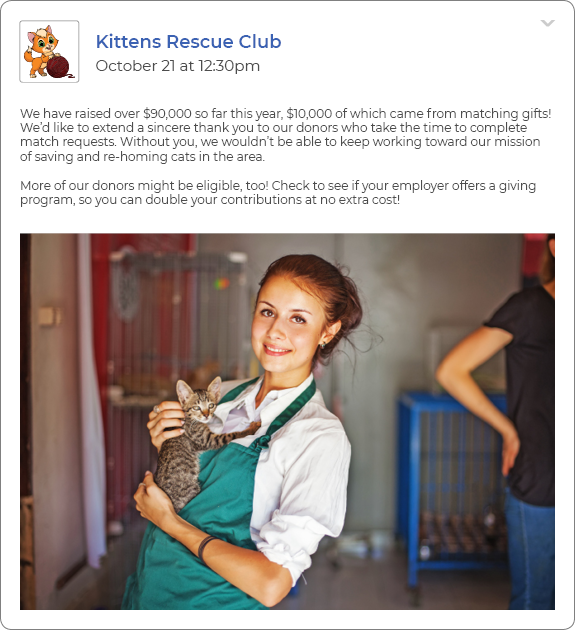 When you establish social media pages for your nonprofit and regularly post updates, your supporters will feel motivated to share your well-written posts, allowing you to reach the largest possible audience. Save time, raise awareness, and increase donations — all with a single tweet or status update.
---

5. Matching Gift Database: How Double the Donation Can Help
Matching gifts are a key part of an effective fundraising strategy, and so is recognizing your donors who complete the match process. With the right matching gift database in your tech toolkit, you'll instantly recognize corporate giving opportunities by seeing which of your donors are match-eligible, and you'll know when to show appreciation to them. That's where Double the Donation comes in.
Here's how Double the Donation's matching gift and volunteer grant database works:
Your team embeds the tool on your nonprofit's website or donation page.
Donors search their employers, either before or after they donate.
They instantly receive results (e.g. available guidelines and forms).
When you embed Double the Donation's matching gift plugin across your website and fundraising channels, you'll pinpoint eligible donors and maximize your potential revenue.
Larger nonprofits may benefit even more from 360MatchPro by Double the Donation, which recognizes match-eligible donors through email screening. From there, these donors will be encouraged to submit match requests through automated email reminders, pushing their match to completion.
By keeping up with donors' eligibility and their match-completion status, you'll know when to reach out to them to ensure they know about their opportunities. Plus, once their match goes through and your organization receives the check, your team can properly thank them. Whether that's through an acknowledgement letter, a direct email, a newsletter, or a social media post is entirely up to your organization.
---
Without your generous donors, your nonprofit wouldn't be able to continue working toward its mission. When your donors take the time to submit match requests to their employers, make sure to acknowledge them. Otherwise, you'll likely lose their loyalty.
Reinforce their actions and stay fresh on their minds by outwardly thanking them. Plus, public recognition helps promote these valuable revenue opportunities to donors who wouldn't otherwise know about them.
If your donor can potentially double their impact without reaching back into their own pockets, in most cases, all you have to do is make them aware and guide them through the process. Make sure your supporters receive the recognition they deserve. By using these different strategies, you'll boost your revenue and retain your vital supporters all at once!
https://doublethedonation.com/wp-content/uploads/2022/05/Matching-Gift-Acknowledgement_Feature.jpg
280
725
Adam Weinger
https://doublethedonation.com/wp-content/uploads/2022/03/logo-dtd.svg
Adam Weinger
2015-06-19 14:17:00
2023-01-23 20:55:10
Retaining Matching Gift Donors: 4+ Effective Strategies