Years ago, all companies required employees to submit match requests using paper forms. While they're still offered at some companies, more and more companies are transitioning to electronic matching gift forms.
As one of the main sources of revenue for nonprofits, matching gifts are not something your organization wants to miss out on. Instead of sticking strictly to paper forms, offer your donors (and their employers) a digital option, too!
Feel free to jump ahead and read the section that's most pertinent to your organization:
Read on to learn more about the different components of both paper and electronic match forms. As you move forward, implement these best practices in your fundraising strategy. Give your donors all the tools they need to complete a match request, and you'll maximize your matching gift revenue. Let's get started!


Paper Matching Gift Forms
Paper matching gift forms are where it all started. While most of your donors may prefer electronic forms, you'll miss out on a substantial amount of revenue if you don't incorporate traditional paper forms.
There are a few specific components of paper forms that your organization should be aware of when designing and distributing them to your donors.


Common Components of Paper Match Forms
Donor Section
This is where the company asks employees to provide details on the original donation. This typically includes:
Employee identification numbers.
Personal information such as a mailing address and phone number.
Donation amount.
Without this information, a company won't be able to determine your organization's eligibility, which invalidates the donor's match request.
Nonprofit Section
On these forms, there will be specific questions pertaining to the organization. Your donor will also need to provide documentation of their donation, which requires your nonprofit to create some sort of tangible proof.
Your donor will also need to provide any other relevant information that's requested on the form. Typical information fields listed here are:
The recipient organization's name.
The type of organization (e.g. cultural, educational).
Donation date.
If the company doesn't receive this information, they won't be able to determine your eligibility, which means there's no possibility of receiving a match.
View an example of a company that requires paper forms by taking a look at Verisk Analytics' matching gift program.


Typical Steps for Donors Submitting a Paper Match Form
Employees at corporations with paper match forms go through the following steps to submit their match requests:
Make a donation.
Determine if their company matches employee gifts.
Determine if the recipient organization is eligible.
Locate and submit the appropriate matching gift form via the designated channel (e.g. mail).
While paper forms are being used less now that society is more tech-reliant, it's still important that your nonprofit's team knows about the basics. That way, they can answer any questions your donors may have about submitting a paper match application.
Explore Double the Donation's service to see how we help donors determine their matching gift eligibility and make it easy for them to submit match requests.


Electronic Matching Gift Forms
Technology is rapidly progressing, so it makes sense that many companies have transitioned to electronic forms. Doing so not only reduces their costs in the long-run, but it also makes it easier for employees to submit match requests instantly from anywhere.
While paper forms are wonderful to have, electronic forms give your donors a bit more freedom in when and where they complete their requests. Plus, digital forms save you time by allowing the data to flow directly into your matching gift database, as well as a decent chunk of money, since you won't have to print them off.
Before incorporating them into your fundraising strategy, learn the common components of electronic forms, so you can relay this information to your donors.


Common Components of Paper Match Forms
Employee Sign In / Registration
To access their companies' electronic matching gift forms, employees usually have to sign on using their standard username and password.
If retirees are eligible to request a match through their former employer, they typically must register in order to use the system. This is often done through a third party company such as the JK-Group or Causecast. The process from here is fairly straightforward.
Employee Submission
Just like paper forms, employees go through the process of registering their match requests. This typically includes:
Finding the nonprofit organization on the list of IRS 501(c)(3) organizations.
Providing information about their previous donation such as the amount and date of the donation.
Submitting their matching gift requests.
It may be difficult to encourage donors to complete the match request process, but keep trying (or enlist the help of a matching gift automation system). Otherwise, there's no chance of you receiving that much-deserved revenue!
Nonprofit Verification
While the most challenging part of receiving matching gift funds is getting donors to initiate and complete the matching gift process, don't forget that your nonprofit also plays a role. Verification is a vital step in the electronic form process.
After the employee completes the matching gift request, the nonprofit is normally notified by mail that an employee requested a match. At this point, the nonprofit must log into the company's online verification system to confirm that the employee actually made a donation to the organization. Nonprofits may also be asked to send a letter verifying their 501(c)(3) status.
Whatever you do, do not forget to verify the gift. This is the final step before receiving a check, and the last thing you want is to slip up and miss out on the match!


Examples of Companies Utilizing Electronic Matching Gift Forms
Wondering exactly what the online matching gift process is like for your organization's donors? Here are two articles to give you a sense of what the process looks like:
Capital One Matching Gift Process Sample
Like Boeing, Texas Instruments, and many other companies, Capital One employees utilize CyberGrants' matching gift platform. Employees go through the process which is integrated into Capital One's intranet.
Home Depot's Matching Gift Process Sample
Like many other businesses, Home Depot requires match forms to be filled out electronically or by phone. Electronic forms allow for easier documentation and speed up the match process.
See a demo of Home Depot's process.
---

How a Matching Gift Database Can Help
At Double the Donation, we provide a summary of each company's matching gift program to make it easy for donors to go through the process. Of course, companies have far more detailed guidelines with all sorts of fine print detailing how the program works, but this is a wonderful starting place and can give you and your donors major insight to corporate giving opportunities.
It's up to your organization to find out all the guidelines, but Double the Donation's matching gift database can simplify this process.
When your donors search their employers using the tool, they'll instantly receive any available guidelines for submitting a match request to their employer. They can do this before they even submit their donation to ensure that it will be eligible.
If available, a link to online forms and other related documents will be given to them, too! Here's an example of what you might see when searching an employer with Double the Donation's matching gift tool: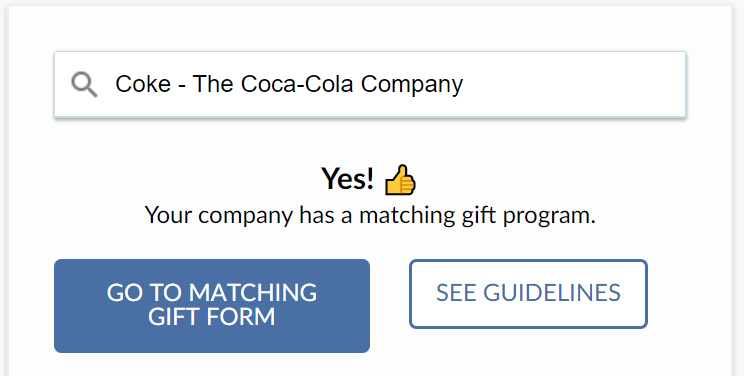 Donors will also see other relevant information, such as:
Minimum and maximum match amounts.
The company's match ratio.
Eligibility/Nonprofit requirements.
Submission processes (whether online or offline).
Submission deadlines.
Whether or not there's a volunteer grant program.
A database can give you powerful insight into your donors' employers. Make sure you're not missing out on these important revenue opportunities by providing your donors with all the information (i.e. guidelines and forms) they need!
---
Make sure you're prepared to guide donors through the match submission process. Your team should understand the ins and outs of both paper and electronic match forms, so you'll be able to answer any questions your donors may have.
Now that you know all about both types of forms, get out there and start maximizing your matching gift revenue!

https://doublethedonation.com/wp-content/uploads/2022/05/Matching-Gift-Forms_Feature.jpg
275
720
Adam Weinger
https://doublethedonation.com/wp-content/uploads/2022/03/logo-dtd.svg
Adam Weinger
2013-03-25 11:00:51
2022-06-24 21:54:56
Matching Gift Forms: Key Components of Corporate Match Forms