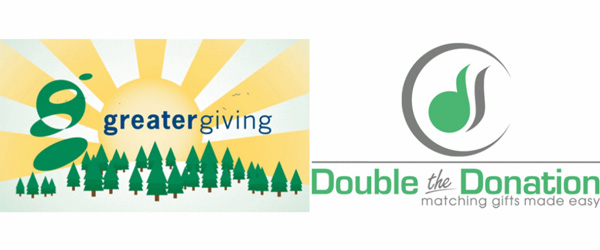 Are you a Greater Giving customer looking to integrate Double the Donation's matching gift search tool into your Greater Giving fundraising page?
Then this article is for you. If you prefer to download and share slides you can do so at https://doublethedonation.com/forms/documents/greater-giving-matching-gifts.pdf.
Double the Donation's Relationship with Greater Giving:
Greater Giving is a leading provider of technology and credit card processing services to nonprofits and schools to make all their fundraising efforts more successful.
Double the Donation is a leading provider of employee matching gift data and tools to nonprofits.
This guide was put together to help organizations who use Greater Giving's fundraising platform incorporate Double the Donation's employee matching gift widget into their fundraising pages. Greater Giving and Double the Donation are two separate and unrelated companies.
Six Steps to Integrate Double the Donation's Matching Gift Lookup Tool with Greater Giving:
At risk of stating the obvious, the below steps and screenshots are applicable to organizations which already have an account with Double the Donation and Greater Giving. If you don't have an account with Double the Donation you can:
In terms of integrating Double the Donation's search tools with Greater Giving's donation pages, it's a six step process:
Step #1: Log in to your organization's Greater Giving account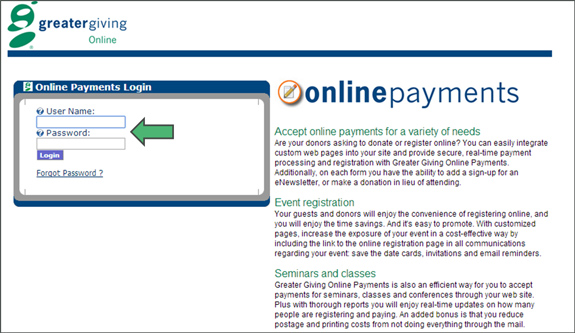 Step #2: Choose your organization's pages where you want to incorporate matching gift information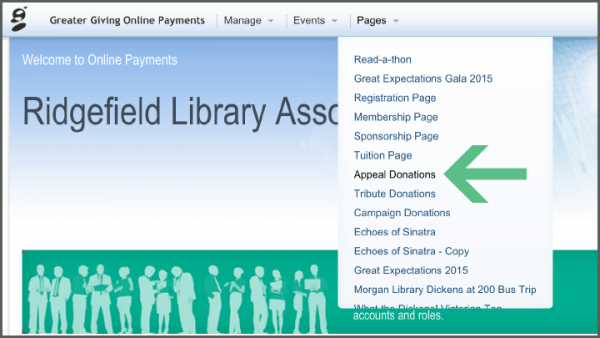 Step #3: Within Greater Giving's Online Payment's navigation bar select "Edit Page".

Step #4: Scroll down to the donation content section and click the pencil. Then click "Edit Donation Options".

Step #5: Select "Advanced Features"

Step #6: Add a new section to your form. Then add your Double the Donation iframe URL to your Greater Giving donation page and configure the fields.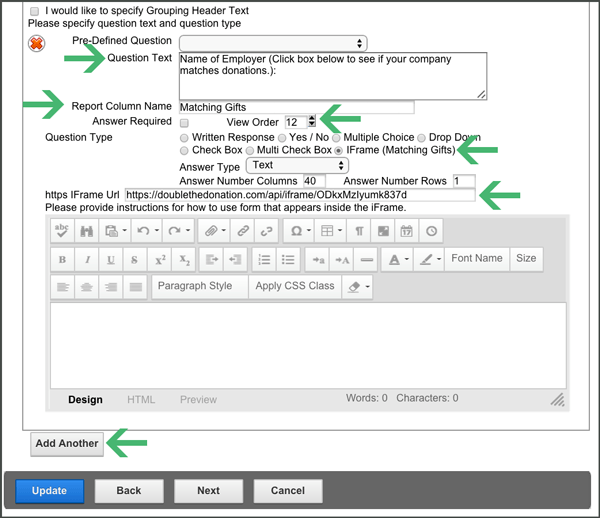 Sample Wording:
Question Text:
Type in what you want to appear on your Greater Giving donation page.

Example #1: Name of Employer: (Click box below to see if your company matches donations):
Example #2: Will your company match your gift? Click the check box to find out and access forms)
Report Column Name:
Type in what you want to name the column in your database.

Example #1: Matching Gifts
View Order:
Reduce or increase this number to change the position of this question on your form.
Question Type:
Select the iFrame (Matching Gifts) option.
Https iFrame URL: 
Paste in your Double the Donation iFrame code. This can be found within your Double the Donation account management pages
Step #6: Verify your Double the Donation matching gift widget is working (three screenshots)
(Screenshot #1 – Initial Greater Giving Donation Page)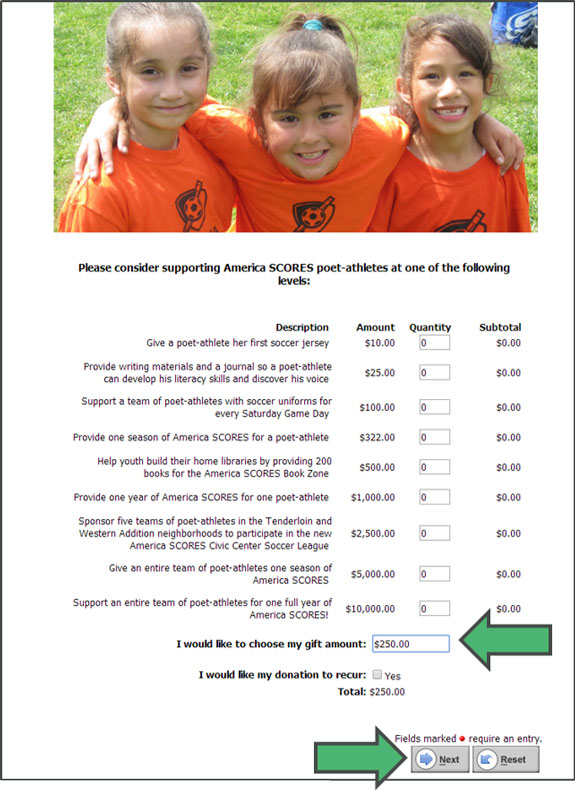 (Screenshot #2: Check the matching gift box)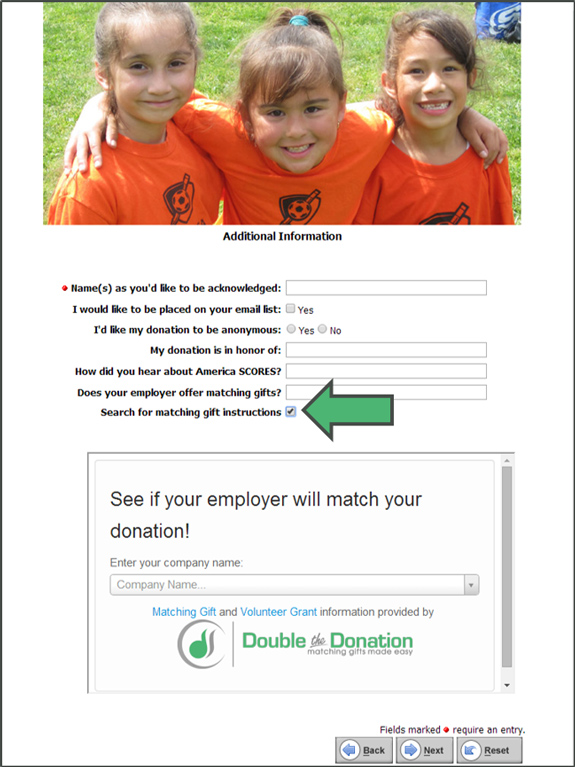 (Screenshot #3: Test Double the Donation's Matching Gift Search Functionality by Typing in a Matching Gift Company)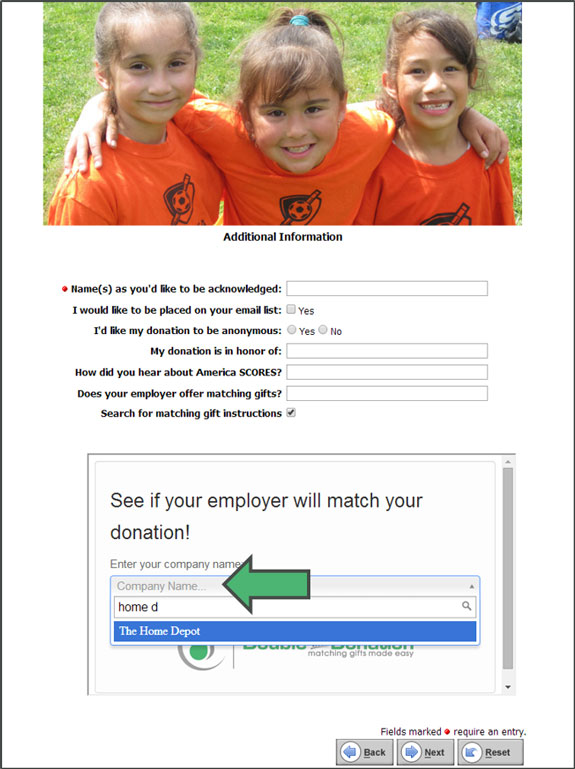 Have additional questions or need extra help setting up your matching gift integration with Greater Giving? View all of the ways you can get in contact with our team >
Want to get started with your Double the Donation / Greater Giving integration? Sign up and get started today >
https://doublethedonation.com/wp-content/uploads/2012/12/Untitled-design2.png
321
845
Adam Weinger
https://doublethedonation.com/wp-content/uploads/2016/09/double-the-donation-logo-header.png
Adam Weinger
2014-05-25 23:15:56
2017-07-01 20:14:59
Greater Giving Matching Gifts Integration with Double the Donation