Great news for nonprofits and corporations! On November 13, 2013 JK Group announced the launch of Consiva. While Double the Donation and JK Group are completely separate and unrelated companies, we're always excited when one of the leaders in corporate philanthropy software announces upgrades and new products.
While there aren't any immediate impacts to nonprofits which subscribe to our employee matching gift service, we figured we'd cover this news story as the JK Group powers many of the employee matching gift and volunteer grant programs which we track in our database / nonprofits rely on.
About Consiva:
Consiva is JK Group's updated suite of philanthropic solutions designed to provide a new way for corporations to drive employee engagement, integrate information and activities, and measure the success of their efforts, both in the United States and internationally.
Built-in functionality includes support for:
Employee giving programs
Payroll giving
Matching gifts
Special giving campaigns
Disaster relief
Employee assistance
Individual and team fundraising
Individual and team volunteering
Volunteering grants
Management of sponsorships and events
Corporate grants
We spoke with one of our colleagues at JK Group- Hesha Patel, Director of Marketing who confirmed that the software is not only available for new corporate clients but they're also in the process of migrating over JK Group's existing corporate customers.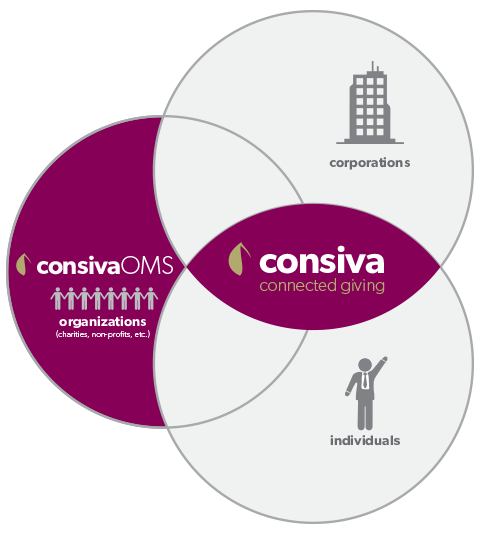 (image from http://jk-group.com)
Impact on Nonprofits:
When we heard of the new Consiva launch, our team at Double the Donation was particularly interested in how the new software impacts nonprofits (both our customers as well as all of the other nonprofits that rely on employee giving programs as a source of funding).
We expect an increase in the number of employees submitting matching gifts and volunteer grants as well as a reduction in the administrative effort required from a nonprofit to track and process these grants.
Higher Employee Utilization:
Let's face it, employee participation rates in corporate giving programs are often low. So we get excited anytime there's a major enhancement in the software that powers many of the world's leading corporate philanthropy programs.
Since JK Group's software is used by more Fortune 500 companies than any of the other corporate vendors, we fully expect that Consiva's launch will make it easy for CSR professionals to launch, manage, and communicate employee giving programs.
That's good news for everyone and will ultimately lead to higher employee participation rates (which means more dollars for nonprofits!).
Easier to Manage:
If you're like many of the nonprofits we work with, managing unique usernames and passwords for each company with a matching gift or Dollars for Doers program is tough. Fortunately it's about to change.
With the new Consiva OMS (Organization Management System), each nonprofit will have a single username and password to manage its accounts with all of the corporations who use JK Group's products.
Learn More:
Corporations interested in learning more about JK Group's offerings can either read our overview on the company or visit JK Group's website.
Nonprofits interested in learning about our fundraising tools which help raise more money from employee matching gift and volunteer grant programs should click here.
https://doublethedonation.com/wp-content/uploads/2013/12/consiva-matching-gifts.png
321
845
Adam Weinger
https://doublethedonation.com/wp-content/uploads/2016/09/double-the-donation-logo-header.png
Adam Weinger
2013-12-10 11:12:52
2017-06-29 17:14:18
Consiva | The JK Group's New Corporate Philanthropy Software